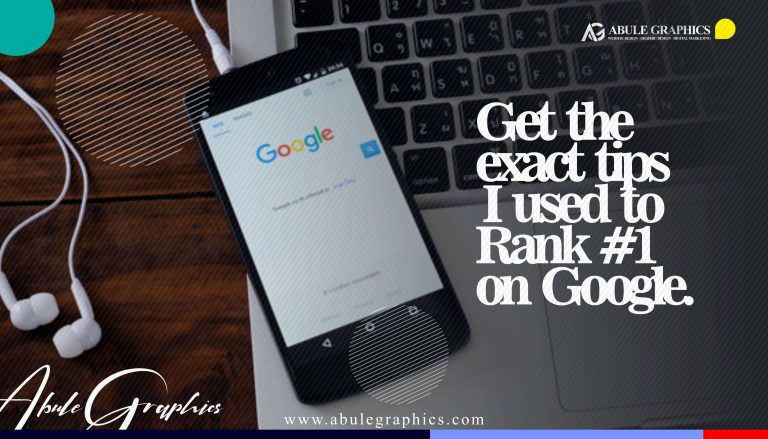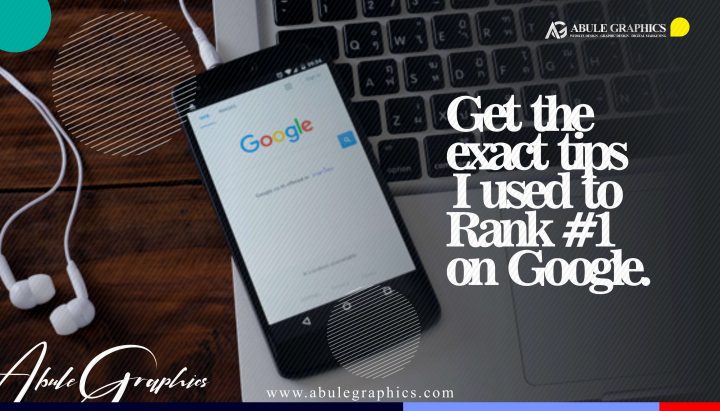 Do you want to rank your website #1 on Google?
Do you want lots of website visitors everyday but don't know where to begin?
In this article, I have added up all the important pieces that will boost your website ranking. These are the exact tips I used to rank the Abule Graphics website #1 for the keyword "Web Design Agency" and "Graphic Design Agency".
I also use these same tips every day to help my clients and partners grow and scale their businesses in just one month.
A Message On Ranking #1 On Google
Before we begin, please read the following…
Boosting your website ranking right up onto #1 on Google may for some, not be an overnight success story. It may even take a number of days.
Read more on Everything a beginner needs to know about SEO
It depends on your competition, how well and effective you plan and implement your Digital Marketing strategy and most importantly, damn good hard work.
It's time to begin…
1 – Plan Your Website Basics – links
For some people, having a website gets them feeling that since they have an online presence, they have all it takes to take over the world.
This statement, though may put them a few steps ahead of their competitors, but one user's bad experience on their website will make the visitor never come back for a visit.
This also applies to a "brick and mortar" shop. Nobody would revisit after a bad experience.
This is why you need to carefully plan a strategy that best fits your business model.
Start by jotting down your key areas of focus. What value do you offer to your customers? What will your customers sing praise about and how stress-free is it to get them there?
2 – List Your Website Goals – Study your market
What are your website goals for your business and how do you plan to achieve them? Do you want to make more sales for your online store or get people to learn more about your services? Are you planning to sell online?
Who are your target customers?
It's nice to have a technical website with lots of features but if your website visitors aren't technical inclined… you may never convert these website visitors into customers!
3 – Do Your Keyword Research
I once heard someone say "SEO is dead, and keywords do not matter…" but the truth is, they really are a vital part of Digital Marketing!
If your aim is to rank high on Google for "Web Design" or any other keyword, you must to do an intensive keyword research.
This is a quick tip… Visit Ubersuggest
Search for a keyword to see its popularity.
With this, you get a better understanding of your competition and this will help you figure out how to tackle the situation.
4 – Optimized Domain Name
Wonder how I was able to rank #1 on Google for the keyword "Graphic Design Agency"?
For me, this is surely the easiest part and no other website will every rank #1 for the same keyword.
The secret is, the Domain Name already has the word "Graphics" and this goes a long way in boosting my website ranking on Google.
Just in case you are finding it difficult to come up with a suitable business name, I recommend – Business Name Generator
5 – Build a user friendly website
After Website Hosting and Domain name registrations, it is time to build a website. There are lots of FREE Website builders you could leverage. Examples are Squarespace, Wix, etc. I strongly recommend WordPress.
Read more on Best web design guides every designer should know
Also Read to find out the top web design agencies in Nigeria
6 – Website Security
Some web designers wrongly assume that web security is provided by your Website Host. I have received several mails from some of them who have fallen victims of website hack.
WordPress is very popular on the internet. For this same reason, people regularly try to hack and cause exploitation of most WordPress websites.
A very good guide on toughening your website security can be found here.
7 – Speed Is QUEEN
As I have mentioned earlier, it very important to ensure that your website is very fast. This may be very difficult with a poor Website Host provider. It is very important to start off with an agency that focuses on WordPress websites.
The following websites will help you test your websites speed:
Both websites offer free tools and will give you a wide insight  as to what exactly is slowing down your website.
Some of the key factors that cause websites to be slow are:
Too many plugins
Large uncompressed images
Lack of Gzip
Poorly coded theme
Lack of Minifying code
8 – Optimize Image Alt Tags
It is very important to upload and have nice images on your website. But what take place when they don't load properly (if at all)?
Google may see your webpages with no images… So it is important for you to explain these images to Google in order for Google to know and show them in Search Results.
Google could be likened to someone who is blind to images. How then would you describe these images so that Google can share it with billions online? This is exactly where Image Alt Tags come to play.
9 – Meta Titles
Every page on your website must have unique, and relevant Meta Titles. Meta Titles are the blue colored texts you notice on Google results when have searched for a particular product or service.
Title also appears at the top of your browser when you are on a website.
Now, I guess you understand its importance and why meta titles must be as relevant as possible.
More information on meta titles can be found here.
10 – Meta Descriptions
This is very similar to your Meta Titles.
Meta Description is very important and offers additional space to help your website visitors and  audience understand what your web page has to offer.
Looking at it on Google, it appears below the blue title…
More on meta descriptions can be found here.
11 – Mobile Responsive
In this modern age, more  people are turning to Mobile browsers over Desktop PCs.
Just imagine sitting on the sofa, watching your favorite TV show and rather than watch adverts you turn to your phone.
For this reason, your website must be Mobile Friendly.
This is one of the many advantages about WordPress as it comes out the box mobile ready.
Google offers a mobile tester for websites. You can find it here.
12 – Sitemap
Sitemap is very much like a family tree for your web pages.
It shows a list of all the pages on your website and also, with links to them. What it does in essence is to help search engine bots to look through your website and find webpages easily.
You too can create your own sitemap for free here.
13 – Google Webmaster
The Google Webmaster Console is one of Google's great tools.
It's advised that you Link your website primarily to Googles search engine. This enables you to look further into all the necessary key functionalities of our website, your website's ranking positions on Google, installed sitemaps, possible errors and much more.
I'ld advise that you sign up today!
You can access the Google Webmaster here.
14 – Use Location To Boost Local SEO
I won't bore you with local SEO because it opens a whole new list of tasks, but if you own or manage a local business and are hoping to get more leads and customers within your area, then local SEO must be your top priority.
Schema Markup is a very important part of Local SEO and more information can be found on here.
Read more on everything a beginner needs to know about SEO
15 – Internal Links
Whenever a search engine bot crawls through your website, it looks out for do-follow links that would help it navigate to other pages on your website. This is the exact spot where Internal links come in.
For this same reason, most bloggers and other website builders link to several other relevant posts on their websites. Doing this helps search engines crawl more than one page.
Read More on Link Building and its Advantages
Another reason why Internal links are necessary is because it helps keep website visitors longer on your site and makes them navigate from one webpage to another.
16 – Fix Broken Links
Broken links are the nuisance of website existence, and in most situations, they often create issues for website visitors. It is very annoying to find a link that used to work but suddenly don't.
Let's assume you have limited time, you type in a query on Google and what you want comes up on top result… You click it… 404 – Page Not Found!
It is pretty annoying. Google sees broken website links as bounces and this is bad for your website..
The one tools I recommend is – Screaming Frog or Google Webmaster which crawls your website links and display any errors.
17 – Use of Headers – H1, H2, H3 and so on…
While you can't stuff all your keywords in your Meta Title, Headers can be very useful.
Google places priorities on headers.
18 – Analyze Bounce Rate
Bounce rate tells you that people are literally bouncing off your website.
Have you ever visited a link you found on Google and suddenly changed your mind then left? Well, it really affects peoples' bounce rate.
This helps you understand where improvements need to be done on your website.
Important notes to check include:
Are you marketing to the wrong audience?
Is one achievement producing better result than another?
Are your web pages optimized?
Is your website displaying the wrong content on first load?
Is your sites speed fast enough?
You can get all these answers from Google Analytics. Alternatively you can get in touch with us so we can help thoroughly audit your website for you.
19 – Social Media – Get on Facebook
If you haven't created an account on Facebook (personal). you are extremely behind with the times!
After creating a personal Facebook account for yourself, what you must do next is to create a Facebook page for your Business. This page will be very useful for sharing quality content and engage with potential customers and much more.
Read more on how Social Media can help your business grow
20 – Social Media – Get on Instagram
Instagram is very awesome for some of my clients and generates huge return on investment. Nevertheless, don't believe Instagram is for everyone. It depends on type of business and niche.
21 – Post Regularly On Google My Business
Google My Business is a very important tool when it comes to searching.
One of the key updates of Google My Business is Posts. GMB allows you to post about offers, events, news and many more.
I strongly suggest you use this tool as it not only showcase key services and links to your existing website, but it can also be seen by users who may not even be searching for your business.
22 – Link Building And Backlinks
One of the most effective factors that can help you rank #1 on Google and attract more visitors to your website is backlinks.
Though there has been an argument on its importance, it obviously plays a vital role in your website success.
For instance, it is awesome to get hundreds or thousands of free links on badly designed websites, but what message does Google get about your website? Nothing! For this reason, relevance and quality are very important.
23 – Content that sells
Invest a lot of time into building quality content. Never just write about anything and wish it would work. Spend quality time writing every piece of content. This really proves to your audience – why you are the best.
24 – Blog Posts
Just like they say – Content is KING.
This has been proven over time that the more content you create, the better. I do not mean you should just write any old piece of nonsense. Your blog posts must be relevant and also be something that your audience would want to read.
Therefore, you should consider updating your audience on the latest changes, or give out free actionable tips and tricks that they will find very useful. This will keep them coming back to your website.
If you need a content writer, get in touch with us now.
25 – Update Constantly
Google is mainly concerned about relevance. For this reason, a blog post written since 2016 may be nice and maintain #1 position on Google for a long time, but most of the contained facts and figures may be very much out of date and may therefore be irrelevant.
This is why you sometimes see a website which may be ranking #1 on Google for a long time and then suddenly, it somehow drops off the earth.
In Conclusion
Now, it's obvious that this is, plus all the tips you have been reading about on the internet will definitely help you grow your website, attract more visitors and #1 in search engines.
For this reason, SEO is still pretty much alive and there are so much you must put to consideration when building a website.
The key aspects you should take from this are:
You must Plan carefully
You must Update Regularly
You must Focus On Reputation Management
You must Remember that Content Is King
So, there you go, a great head start for those who are just setting out on the SEO journey – or a great reminder for those of us who may have been away from SEO for a while.
I believe you have learnt so much after reading this post.
If you have tried these SEO tips and have started getting results or you have specific questions you would want me to help you answer, please leave a comment in the comment section below.
Cheers
Important Links to help you:
1. 6 Important Skills a Digital Marketer Should have
2. Best 10 SEO strategies to increase website visitors