In this post, I have listed everything you need to know about finding the best digital marketing agencies in Abuja. It will also help you get the best professionals, skilled, and dedicated to helping your business attract organic leads which initially could be puzzling, stressful, and completely overwhelming.
Read till the end.
Over the years, I have seen businesses crumble due to the inability to find a suitable Agency that'll publicize them effectively on the internet.
Though there are over a hundred Digital Marketing Agencies (probably more) that look like "the right choice", small businesses are forced to ask the question "how then, do you know which Digital Marketing Agency is the best choice?"
The first thing you need to figure out is the kind of marketing service your business or products need.
What do you need?
Let's get started by finding out if any of the following meets your need:
Are you considering a new website for your Agency?
Upgrade or redesign your existing website?
Aim to re-strategize your Internet Marketing plans?
Promote online relevance?
Generate organic leads?
Boost Sales?
Just really haven't figured out what you should aim at?
These questions may appear simple but are very crucial as the very first step in decision making. Once you have figured out a need, the next step is to find a digital marketing agency that's skilled enough to meet this need.
Find and select a suitable Digital Marketing Agency
The following are tips I recommend to help you find and select a suitable Digital Marketing Agency:
The best agencies know the right questions to ask and give suggestions on the best approach to help you achieve your goals. Be observant.
Even if a particular agency hasn't worked on a project like yours, their portfolio should (at least) be appealing to you.
Communication is Key. Ask questions and find out things you could do yourself.
The tips listed above are the most basic requirements you should look forward to. If a digital marketing agency fails to meet them, you haven't found the right one.
Just when you think you've found the best Agency
There are other important requirements you need to look out for. Just like Abule Graphics, most Digital Marketing Agencies offer services like Web Design and Graphic Design, and these services are very important and should be carefully considered when it comes to picking out a suitable agency. The following are a list of considerations to help you just when you think you have found a Digital Marketing agency you think you would like to work with.
Is their website appealing and easy to navigate?
Does their website it tell a story?
Is the use of keywords on their website consistent?
Are the website contents original, succinct, and insightfully optimized?
What about the graphics?
Do they use keywords that relate to what they do on their website?
What's their website ranking on search engines (based on their niche)?
Is their content Engaging?
Also compare their Website on both Desktop and Mobile to see its responsiveness.
A Digital Marketing Agency's style as it regards web content and engagement is also very important and you should feel happy and confident when you find the right one.
NOTE: Every Digital Marketing Agency in Abuja has very different strategies and each method is unique. Feel free to inquire about what strategy an agency is using. If it sounds convincing enough to make you want to take action, then you have found the BEST ONE.
A Digital Marketing Agency that Cares About your Business Growth
Because we are a customer-centric Digital Marketing Agency located in Abuja, Nigeria, Abule Graphic's team of Web Designers and Digital Marketers are committed to helping empower vendors, entrepreneurs, and fearless brands in Nigeria to improve sales and customer retention.
The Nigerian market is filled with potential customers who are actively searching for products and services like yours on the internet.  Millions of smartphone users spend a lot of time on the internet and regularly search for local businesses where they can shop for relevant items.
This is why you need to hire an experienced Digital Marketer who will deliver the best results.
I will introduce you to some of the Best Digital Marketing Agencies I have personally looked at and I believe they are result-oriented:
LIST OF BEST Digital Marketing AgencIES IN ABUJA
---
Domain name: https://www.abulegraphics.com/
Abule Graphics is known to be listed above the list of all Web Designers and Digital Marketing Agencies in Abuja, Nigeria as they provide unique digital solutions for hundreds of clients in Nigeria and other countries around the World.
This Digital Marketing Agency is located in Abuja, Nigeria.
This Agency has an impressive list of expertise that helps to provide the optimal services to the users.
Abule Graphics has more than 7 years of experience in this sector.
They are located in Abuja, Nigeria.
With Abule Graphics, clients and customers are connected through a wide range of digital devices than ever before. They bring to the Abuja market, an era of media convergence is presenting many opportunities as well as a new, complex media eco-system.
Services include:
Web Design, Graphic Design, SEO, Digital Marketing, Social Media Marketing, Email Marketing, Content Marketing, Web App Development services, PPC services, Affiliate Marketing, etc.
---
BACKDESK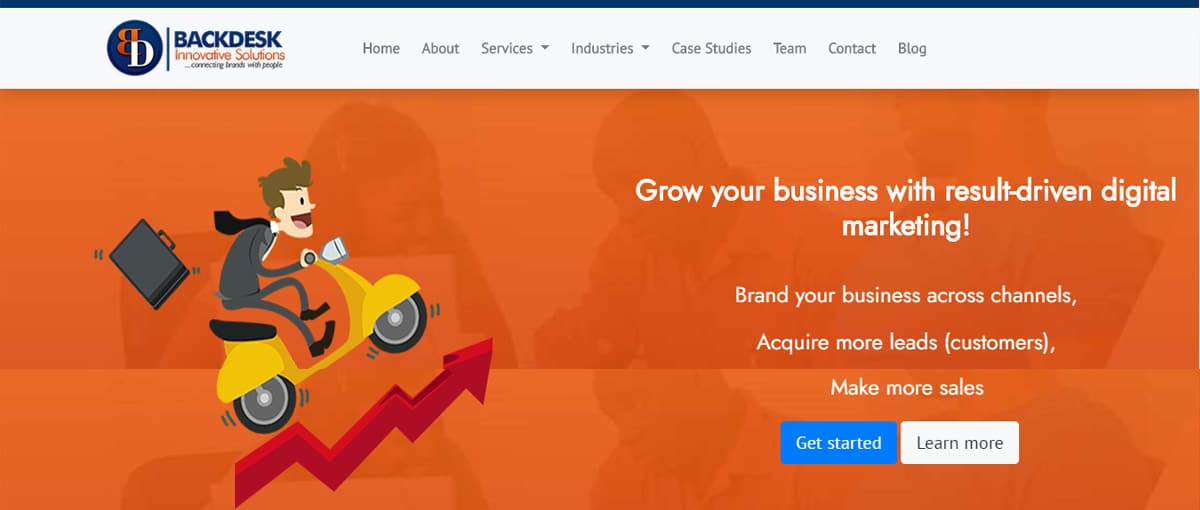 Domain Name: https://www.backdesk.ng/
Backdesk is one of the leading Digital Marketing Agencies in Abuja. They provide affordable, professional services with 100% guaranteed results to clients. The Agency's focus is placed on driving traffic, boost SERP, increase conversion rate, and promote leads and measuring effectiveness to ultimately deliver real results for clients. This organization has permanent and long-lasting clients who are completely happy with their services.
Their services include:
Email marketing, Web Design, Content Marketing, PPC marketing, Social media marketing, SEO marketing, Email Marketing, Logo, Digital Branding, Lead Generation, etc.
---
ASCEND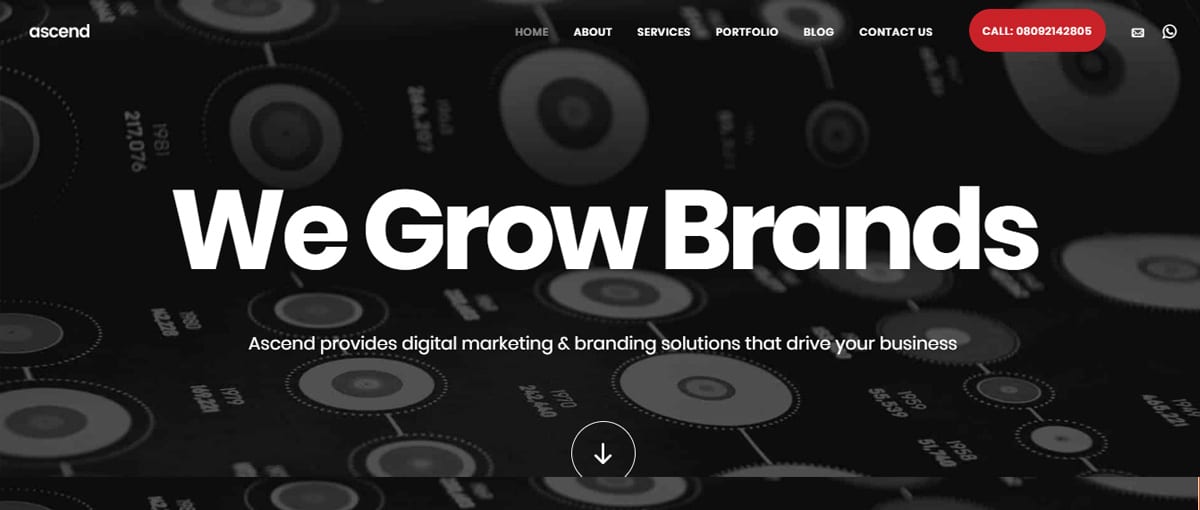 Domain Name: https://ascend.com.ng/
Ascend provides digital marketing & branding solutions that drive business growth for Agencies in Abuja.
Ascend digitally evaluates your business objectives and develops websites, digital marketing plans, or branded materials that are measured to meet your goals, build your brand, and separate you from your competition.
They have created memorable digital marketing campaigns for their clients, attain their desired business goals, and created a strong reputation in their customers.
Their office is situated in Wuse2, Abuja, Nigeria.
Their services include:
Brand Marketing, Copywrite, SEO Marketing, Website Designing, Logo Design, and Digital Marketing.
---
EBRAND MANAGERS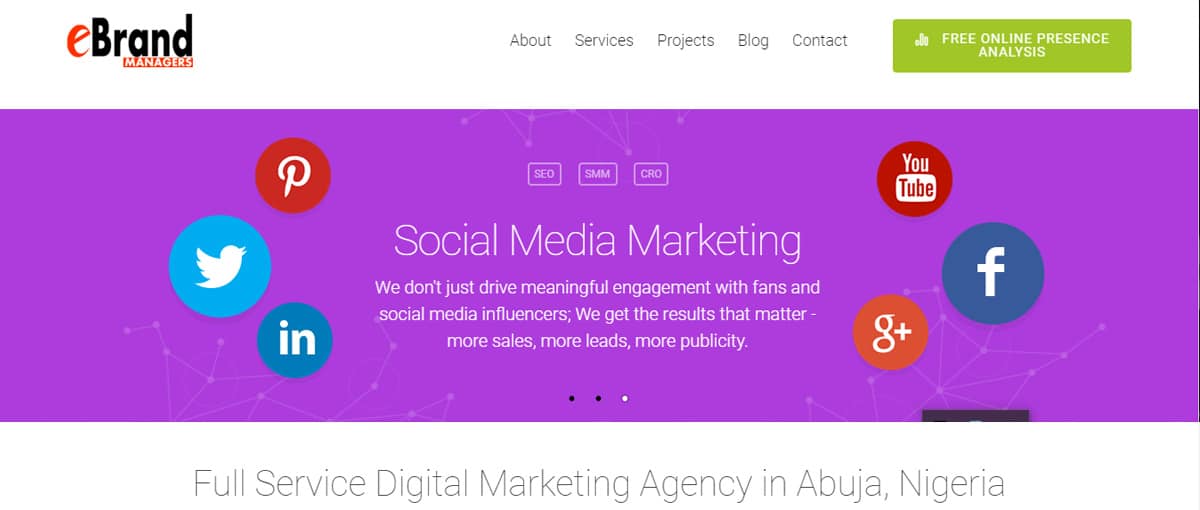 Domain Name: https://ebrandmanagers.com/
As one of the top Digital Marketing Agencies in Abuja, Nigeria, their main focus is to ensure that their clients attract customers who are actively engaged in the Digital World.
Ebrand Managers is an Abuja-based Agency that is specified in SEO, content marketing, and build awareness about the brand. The Agency aims to boost visibility, generate more of the traffic into paying customers, and improve performance with digital marketing analytics and testing.
This Digital Marketing Agency in Abuja also helps clients identify and rectify any potential obstacles to the performance of their website and social media marketing platforms as well as build the foundation for wider, digital marketing efforts.
Their services include:
Web Design & Development, Social Media Marketing, Search Engine Marketing, Digital Marketing, Mobile Marketing, Content Marketing, Digital Marketing Training, and other Marketing services as well.
---
ACECUBEZ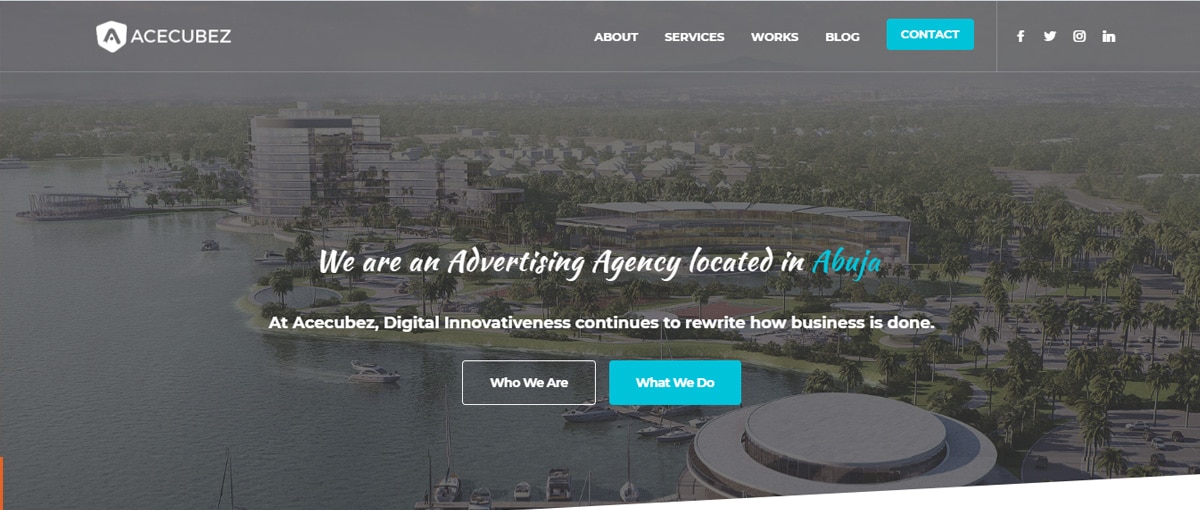 Domain Name: https://acecubez.com/
Acecubez is a full- service Web Design, Digital Marketing, and Branding Agency in Abuja. This Digital Agency offers a robust blend of quality Web Design and Digital Marketing services with great talent. They help their clients grow with tools like Website Design, Online Advertisements, Digital Marketing, SEO (search engine optimization), and PR Campaigns.
Their services include:
Website Design, Search Engine Optimization, Social Media Marketing, PPC Online Marketing, Mobile Marketing, Digital Marketing, PR Management, etc.
---
BIZMARROW
Domain Name: https://www.bizmarrow.com/
Bizmarrow is a Digital Marketing and social media agency that helps brands with its creative strategies or media strategies coupled with digital execution.  They help their clients grow their brand visibility, attract more customers, make more profit, and grow their businesses using customized digital marketing strategies?
They bring together a combination of creative and sellable ideas to every client they work for.
As indicated on the front page of their website, their mission is to help small businesses in Abuja and the whole of Nigeria to navigate the complex maze of online marketing, attract paying customers and grow
Their services include:
Digital Marketing, Social Media Marketing, Search Marketing, Mobile Marketing, Search Engine Optimization, SEO Marketing, Keyword research and Analysis, Email Marketing, Content Marketing, Website Analytics, Google my Business, and Google plus.
---
Conclusion
In the final words, I'll love to say that this post offers you a list of the best selected digital marketing Agencies in Abuja.  It is also very important to check the client's feedback before you choose any Digital Marketing Agency to help grow your business.
My suggestion is to follow your instinct and select the Digital Marketing agency you think is most suitable to help you promote your business, product, or brand on the internet.
The question I usually ask is- what good is a Nigerian Digital Marketing Agency that ranks poorly on search engines?
So, make sure you check for their ranking on various search engines (Google, Yahoo, Bing).
Note:
If you believe this piece of information about the above-listed web design and digital agencies needs to be updated, or you think a web design or development agency in Nigeria deserves a spot on the list, please write. I will do my research and update the list where necessary.